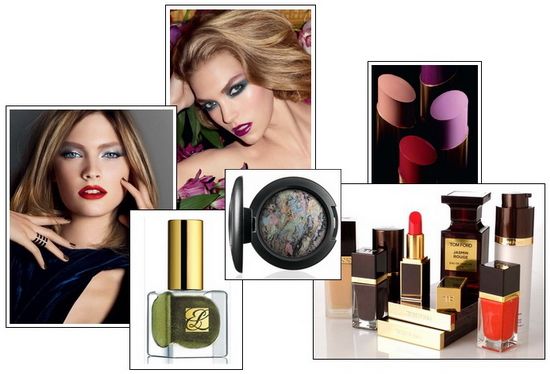 С удивлением узнала, что большинство моих знакомых, читающих русскоязычные бьюти-блоги, не читают англоязычные. «Ну а кого кроме Темпталии читать?» — отвечают они. Я, честно говоря, устала отправлять список интересных ссылок каждому персонально, поэтому попробую регулярно публиковать небольшой еженедельный обзор того, что мне запомнилось.
Кстати, незнание английского языка не должно останавливать. Все таки большинство из нас блоги, в том числе русскоязычные, как и глянцевые журналы, в первую очередь просматривает, вчитываясь только в то, что действительно заинтересовало. А рассмотреть в блогах, ведущихся на иностранных языках, есть что.
Кристин
Temptalia
первой рассказала об ожидаемых осенью средствах декоративной и уходовой косметики Tom Ford (
ссылка
); показала и дала высшую оценку кремовым теням Ombre Fusion из летней коллекции Guerlain (
ссылка
); отсвочила всю коллекцию кракелюрных лаков металликов China Glaze Metal Crakle Glazes (
ссылка1
,
ссылка2
); а также анонсировала еще одну летнюю коллекцию МАС — Semi-Precious (
ссылка
), при просмотре промо-фото которой я испытала подзабытое желание скупить все, и готова подписаться под эмоциональным высказыванием одного из комментаторов этой записи: "Sweet baby Jesus! Lord have mercy and find me a second source of income!" =)
Шарлотта
Lipglossing
сравнила несколько теней разных марок моего любимого оттенка taupe (
ссылка
).
Эми и Лиз неожиданно сообщили о закрытии своего бьюти-блога
Cafe Makeup
, который они начали тогда же, когда и я завела этот блог — в декабре 2009 года. Девушек я читаю не с самого начала, поэтому не знаю, предупреждали ли они заранее о том, что это временный проект до достижения определеных показателей посещаемости. Думаю, многие почувствовали себя несколько обманутыми. Напоследок Эми и Лиз решили поделиться пятью советами, которые пригодятся, по их мнению, начинающему бьюти-блогеру (
ссылка
).
BritishBeautyBlogger
поделилась первыми sneak peak фото осенней коллекции средств для макияжа Dior — Blue Tie (
ссылка
).
Марина
Makeup4all
показала промо-фото осенней коллекции Estee Lauder — Modern Mercury, которая появится в России в октябре (
ссылка
).
Франкоязычный блог
Planete Beaute
поделился информацией и промо-фотографиями осенней коллекции Yves Saint Laurent — Jardin de Minuit (
ссылка
).
Сабрина
The Beauty Look Book
показала в рамках гостевого поста в блоге
Karla Sugar
свотчи помад и румян из весенней коллекции Burberry (
ссылка
). Там же Карла показала свотчи новых жидкий хайлайтеров Make Up For Ever (
ссылка
) и свотчи всех оттенков нового блеска Armani Gloss d'Armani (
ссылка
).
TiffanyD
анонсировала и отсвочила три новые палетки теней Sigma, которые по дизайну упаковки напоминают палетку Naked Urban Decay (
ссылка
), в продаже на сайте Сигмы они появятся 24 июня.
Специализирующаяся в первую очередь на свотчах лаков, блогер
Nihrida
показала совершенно удивительную штуковину. По крайней мере я ни о чем подобном до этого не слышала. Это Mooncup, как сообщает официальный сайт, он является популярным, удобным и экологически безопасным конкурентом тампонов и прокладок. Я внимательно прочитала пост, посмотрела фото этой многоразовой «менструальной чаши» и даже видео того, как оно вставляется и вытаскивается. И никак не могу понять, я такая дремучая в этом плане? Или это правда что-то очень странное. Вы о такой вещи слышали? Может пользовались? В комментариях к посту многие пишут что пользуются такой штукой много лет и очень довольны. Таблица подбора правильной «чаши» под свой размер там доставляет отдельно (
ссылка
).