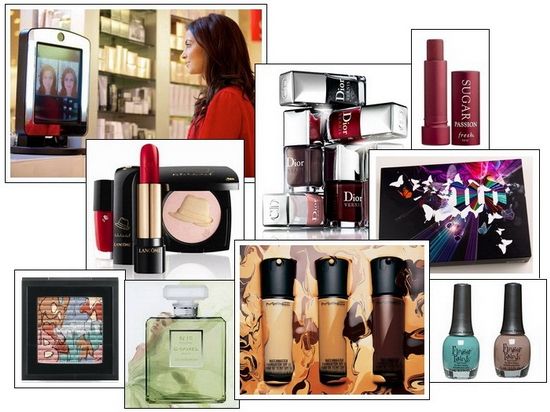 На этой неделе Кристин
Temptalia
поделилась первой информацией о нескольких новинках MAC, ожидаемых этой осенью: в коллекции Art of Power выйдут три палетки хайлайтер, бронзер и тени с необычными принтами(
ссылка
), мне больше всего понравились тени с рисунком граффити; также ожидается появление нового тонального крема Matchmaster SPF 15 (
ссылка
), причем название оттенков на этот раз не совпадает с традиционной системой марки.
Кристин рассказала и о том, какие оттенки лаков нам предлагает использовать Dior этой осенью (
ссылка
). Похоже, что несколько из них пополнят мою коллекцию.
В блоге
BellaSugar
можно прочитать о десяти косметических ингредиентах, которые станут популярными в ближайшем будущем (
ссылка
).
Джен, автор блога
From Head To Toe
, побывала в штаб-квартире компании NYX в Лос-Анжелесе, поделилась рассказом об этом визите и красочными фотографиями в своем блоге (
ссылка
).
London Beauty Queen
рассказала о «волшебном зеркале» Shiseido, с помощью которого можно посмотреть, как на тебе будут смотреться определенные средства декоративной косметики. Такое электронное зеркало, оказывается уже есть в некоторых японских магазинах, а сейчас одно такое «гастролирует» по Великобритании (
ссылка
).
Многие зарубежные бьюти-блогеры на этой неделе делились своими первыми впечатлениями о новой палетке Urban Decay Book of Shadows Vol.4.
Temptalia
посчитала ее не самой лучшей палеткой марки, поставив B- (
ссылка 1
,
ссылка 2
).
Во франкоязычном блоге
Planete Beaute
можно посмотреть первые промо-фото рождественской коллекции Givenchy — Nuit Celeste (
ссылка
).
Product Girl
рассказывает о том, что появился новый, пятый оттенок моего любимого бальзама для губ Fresh Sugar — Passion (
ссылка
). Также Карла сделала фото стенда с лаками Nails Inc (
ссылка
), которые недавно стали продаваться в американской сети магазинов Sephora. Очень привлекательный, яркий стенд, ничего подобного в Лондоне я не видела.
Известный парфюмерный критик Октавиан Коифан в своем блоге
1000fragrances
написал разгромную рецензию на новый аромат Chanel № 19 Poudre (
ссылка
). В тексте встречаются сравнения аромата с запахом марсельского мыла и гелей для душа Bourjois. Впечатлившись, я остановилась читать на середине текста и сбегала нанести аромат на свои запястья, чтобы дочитать, ощущая аромат. Сделала вывод, что надо бы присмотреться к гелям для душа Буржуа =)
В блоге журнала
Allure
можно прочитать небольшое интервью с визажистом и парикмахером Марко Берардини, который работает с Бритни Спирс во время ее мирового тура Femme Fatale (
ссылка
).
В блоге
Best Things in Beauty
появились первые свотчи трех палеток Giorgio Armani из осенней коллекции марки (
ссылка1
,
ссылка2
,
ссылка3
). То ли свотчи неудачные, то ли сами тени, но что-то мне зелено-фиолетовую палетку из этой коллекции больше не хочется.
Brititsh Beauty Blogger
показала палетку с пудрой и румянами из предстоящей рождественской коллекции Guerlain (
ссылка
), а также небольшую коллекцию Lancome — Kate Winslet Golden Hat Collection (
ссылка
), все доходы от продажи предметов из которой пойдут на благотворительные нужды.
В блоге
All You Desire
я увидела первый понравишийся мне лак-кракелюр — OPI Blue Shatter (
ссылка
).
А
Scrangie
опубликовала свотчи лака Estee Lauder — Metallic Sage (
ссылка
), после которых я его снова захотела заполучить в свою коллекцию.
Еще в блоге
Fashion Polish
увидела осеннюю коллекцию лаков марки Finger Paints (
ссылка
). Я люблю такие спокойные оттенки кремовых лаков, надо будет поискать лаки этой марки и пополнить свою коллекцию.
Что вас больше всего заинтересовало из сегодняшнего обзора?
Добавили ли что-то в свой wishlist?