Когда-то у МАС в коллекции был розовый блеск для губ с названием Hey, Sailor. Этим летом появится целая коллекция с таким же названием и оформлением в стиле флотской "тельняшки".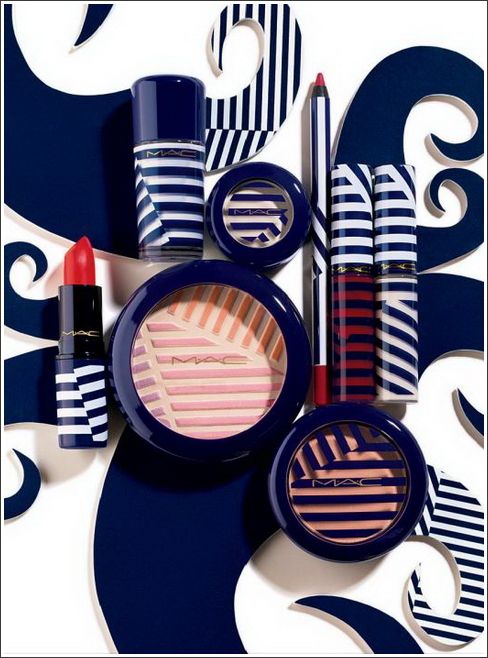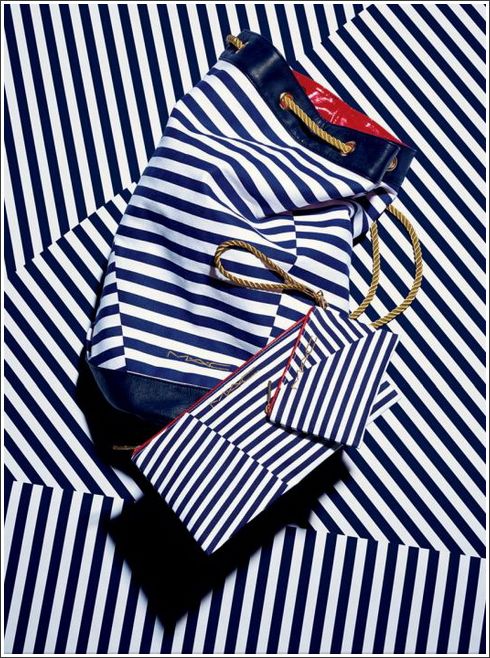 Gone Sailing makeup bag
Gone Sailing tote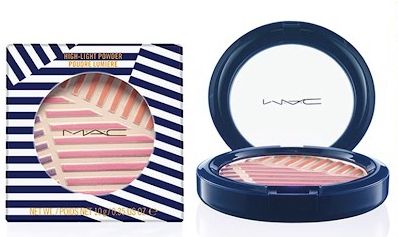 Пудра-хайлайтер
Crew - Soft peachy cream with fine shimmer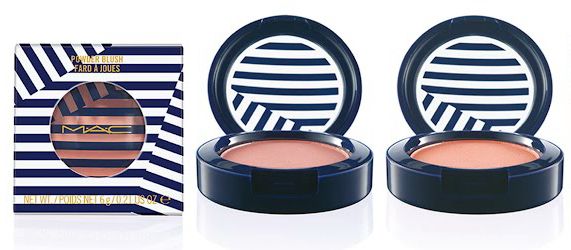 Румяна
Fleet Fast - Pinky, golden coral (satin)
Launch Away! - True peach (satin)



Тени
Crystal Avalanche - White with reflects (veluxe pearl) (permanent)
Jaunty - Light yellow beige (frost)
Barefoot - Tarnished gold (veluxe pearl)
Feeling Fresh - Bright green (frost)
Nautical - Navy Blue (satin)



Карандаши для век Powerpoint Eye Pencil
Handforged - Metallic yellow gold (repromote)
Emerald Sea - Kelly green
Blue Stripe - Dark navy

Карандаши для губ Pro Longwear Lip Pencil
Saunter - Pale nude beige
Shore Leave - Light vibrant coral
Throw Me a Line! - Bright true red



Помада
Sail La Vie - Bright mid-tone orange (satin)
Salute! - Neutral peach (amplified)
To Catch a Sailor - Highly frosted tan (frost)
Red Racer - Bright yellow red (satin)



Блеск для губ Lipglass
Cut Loose - White gold with pearl
Orange Tempera - Pale peach (repromote)
Blessedly Rich - Pale coral
Riviera Life - Bright tangerine
Send Me Sailing - Bright yellow red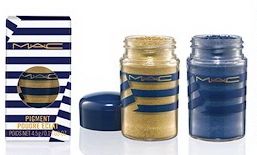 Пигменты
Old Gold - High frosted tarnished gold (frost) (permanent)
Naval Blue - Deep smoky blue (frost) (permanent, PRO)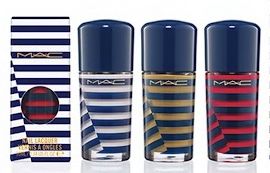 Лак для ногтей
Vestral White - Creamy white (creme) (repromote)
Touch Of Red - Bright yellow red (creme)
Gold Knot - Brass gold (frost)

Также в коллекцию войдут:
Сияющее масло для тела To the Beach Body Oil
Seaside - Dirty blushy pink with multidimensional sparkles
Man Rays - Glowing tan with multidimensional golden shimmer

Солнцезащитный оттеночный бальзам для губ Suntint SPF20 Liquid Lip Balm
Sea Mist - Peachy nude with multidimensional pearl
Au Rose - Poppy coraly pink with gold pearl
Abalone - See through hot pink with no pearl

Кисть 167SH Face Blender

Тушь Zoom Waterfast Lash Waterfast Black

Сумка и косметичка

Коллекция Hey, Sailor! появится в европейских корнерах МАС в мае.
Даты выхода коллекции в России пока неизвестны.

Как вам коллекция?
Что-нибудь заинтересовало?