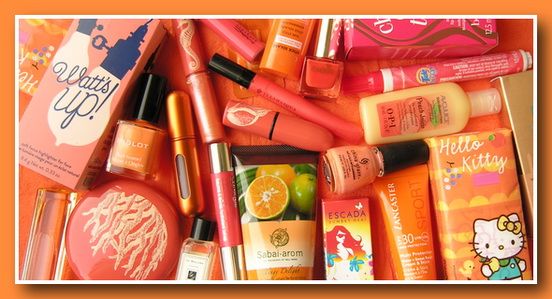 Вот уже два дня подряд я сижу рисую.
Красок много у меня — выбирай любую.
Я раскрашу целый свет
В самый свой любимый цвет.
Оранжевое небо, оранжевое море,
Оранжевая зелень, оранжевый верблюд,
Оранжевые мамы оранжевым ребятам
Оранжевые песни оранжево поют.
Эту песенку давно я пою повсюду.
Стану взрослой, все равно петь ее я буду.
До календарного наступления осени осталось меньше двух недель. А в Москве, судя по установившейся последнее время погоде, осень уже началась. Я не особо люблю лето, но гораздо больше не люблю, когда оно заканчивается. Каждый раз кажется, что я что-то не успела сделать, пока было тепло, солнечно и, казалось, что свободного времени гораздо больше.
В этот переходный между сезонами период я обычно пытаюсь немного наверстать упущенное, в том числе, выбирая более яркие, чем обычно, оттенки в макияже. Чаще всего выбор падает на типично летнюю оранжевую гамму оттенков. А то, что во многих осенних коллекциях тоже часто появляются косметические средства оранжевых, но более спокойных оттенков, позволяет мне продлить «моё оранжевое лето».
С завтрашнего дня в блоге начнется
Неделя Оранжевого Настроения
. В рамках этой тематической недели я не ограничусь только средствами для макияжа оранжевых оттенков. В рубрику попадут косметические средства, привлекшие мое внимание своей оранжевой упаковкой, декоративная косметика, в описании оттенков которой есть слово "orange", даже если, в итоге, оттенок окажется совсем не оранжевым, а еще парфюм и средства для тела с ароматом цитрусовых и цветов апельсинового дерева. Надеюсь, получится по-летнему ярко.
Читайте также:
1.
Блеск и помада MAC оранжевого оттенка Morange
.
2.
Лак Zoya лососевого оттенка Willow
.
3.
Оранжевый лак MAC Imperial Flower
.
4.
MAC To The Beach летняя коллекция 2010 года в оранжевом оформлении
.