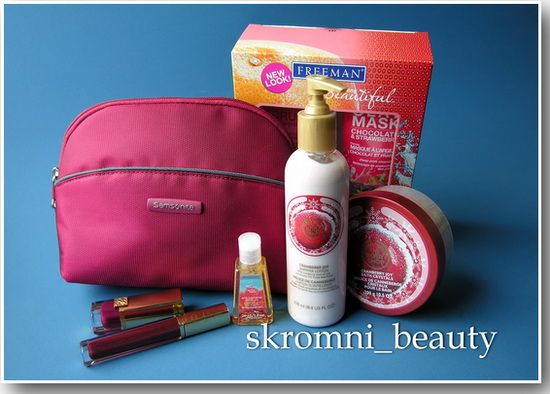 Второй розыгрыш призов в честь
важного для блога события
, состоявшегося в прошедшую пятницу. Если в прошлом году было много розыгрышей с
1-2
призами в каждом, то в этот раз розыгрышей будет меньше, а косметических средств в каждом из подарков — больше.
Призы для сегодняшнего розыгрыша предоставили такие дружественные компании как
Samsonite
,
Estee Lauder
,
The Body Shop
,
Bath and Body Works
и
Freeman
.
Условия участия в розыгрыше:
Вы должны залогиниться в жж как обычный пользователь жж или как пользователь других OpenID аккаунтов (Facebook, Twitter, Gmail, ВКонтакте, Mail.ru и тд). И в период проведения розыгрыша оставить комментарий к этой записи, рассказав, о каких неупомянутых пока марках косметики и/или типах косметики вы хотели бы увидеть отзывы в этом блоге в следующем году? (без ссылок и фото, пожалуйста)
Страна и город проживания участников значение не имеют.
Анонимные комментарии не участвуют в розыгрыше.
Способ определения победителя:
Выигравшего я выберу случайным образом, среди тех, кто отметится участвующим до 22 декабря включительно. После подведения итогов
Skromni Beauty Awards 2012
я опубликую отдельную запись с информацией о выигравших призы в рамках розыгрышей, проводимых в честь Дня Рождения блога, а также о выигравших призы из числа участников опросов в рамках ежегодной косметической премии.
Этот розыгрыш уже завершен.
(
Подробнее о призах
Collapse
)
PS: Комментарии к этой записи я раскрою ближе к дате оглашения победителя этого розыгрыша.